Model: CB-060 Covebase Groover
Applications: Making a groove on cove base
Features: Revolutionary design to groove a 1/8" thick cove base with toe or toeless. Can groove a cove base with heights between 4"-6-1/4". Can also groove a 2-1/2 " height cove base with additional setting and attachments. With included nylon pad it can also groove a 4"x.080" cove base. 2 tungsten steel blades form a "V" shape at 102°, which covers 99% of outside corners. Easy to set up and very fast to make perfect grooves.The grooving depth, grooving length, and clamp tightness are all adjustable.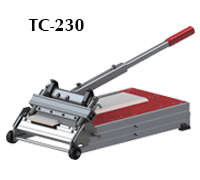 Model: TC-230 2-in-1 Flooring / Trim Cutter
Applications: MDF / Pine / Fiber base board, oak / pine quarter-round and shoe-mold.
Features: 9" cutting width for flooring. 7/8" cutting depth for straight cut and 5/8" cutting depth for bevel cut. Cutting at 90°, 45°, 30° and 22.5° on MDF/Pine baseboard and shoe molding. The end of the table can be moved up and down to increase or minus 1-2° quick cutting angle adjustment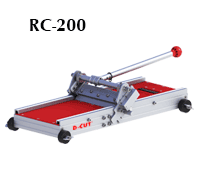 Model: RC-200 Profile Base Cutter
Applications: Special design to cut the popular profile rubber wall-base. Its cutting capacity is as follows: 8" wide, 7/8" height for a straight cut and 5/8" height for a bevel cut. Each cut makes half an inside corner and half an outside corner. It features a quick release lock for cutting angle changes. It makes a precision cuts on 45°, 22.5° and 90°. It is equipped with a long lasting tungsten steel blade. No dust or mess, no noise, and no electricity needed. The four wheels help to move the cutter around on the jobsite.