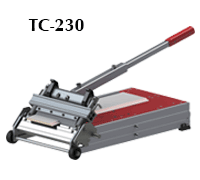 Model: TC-230
Applications: MDF / Pine / Fiber base board, oak / pine quarter-round and shoe-mold.
Features: 9" cutting width for flooring. 7/8" cutting depth for straight cut and 5/8" cutting depth for bevel cut. Cutting at 90°, 45°, 30° and 22.5° on MDF/Pine baseboard and shoe molding. The end of the table can be moved up and down to increase or minus 1-2° quick cutting angle adjustment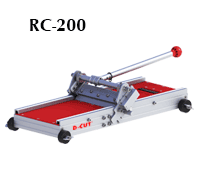 Model: RC-200
Applications: Johnsonite Millworks / Roppe Contours / Flexco Base Sculptures / Burke Wall Base / VPI Wall Base
Features: Specialized design for Johnsonite Rubber/Vinyl Wall-Base. Much safer than a saw blade, no dust, no electricity need and noise free. Easy to move around on the jobsite with 4 wheels. It features a 4 mm thick tungsten steel blade with 8" cutting width, 7/8" cutting height when doing square cuts and 5/8" cutting height when doing 45 degree bevel cuts.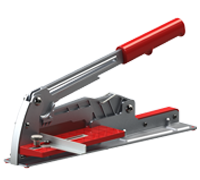 Model:
HC-040
Applications:
Wood, MDF and Plastic Trims
Features:
Straight and powerful small hand cutter for great portability.